OBEP is 10!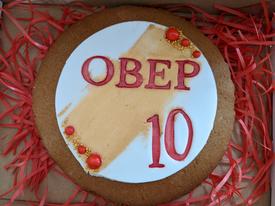 I am celebrating 10 years of OBEP! Here is my story so far…
2011 to 2013 – The Beginning
OBEP started in my flat in Wimbledon at the end of 2011 – a brand new law firm excited to get started.
I had been fortunate to have had many years of wonderful experience at PwC (whose legal arm at the time was PricewaterhouseCoopers Legal LLP). I had worked with some amazing lawyers, professional advisors, business leaders and clients, and had learnt that the full business picture is so important! Data protection is not just about ticking some compliance boxes; it is about looking at the business context and assessing the risks (and this was the case even pre-GDPR). Preparing a commercial contract doesn't mean picking up a precedent and filling in the parties' details; you need to look at what is really needed in the context of the relationship.
I thought hard about my values for my new business (which remain the same today): quality of work, reliability and responsiveness, and understanding individual client needs.
My favourite areas of law are data protection, intellectual property, technology and commercial contracts. Since I was a paralegal in a technology team in 1999, I have had a deep specialism in data protection, so I wanted to continue my expertise in this field. I also love drafting and piecing together contracts, and find intellectual property so exciting! So my practice areas were set. I wanted to advise both small and large businesses. I enjoy large projects with complex issues, but also want to help smaller companies trying to get started, particularly when setting up their relationships with larger organisations who may have an army of lawyers behind them.
I was fortunate to have a handful of clients to start me off with some fantastic work. I joined several local networking groups, and regularly ventured into central London to meet people, and to attend events (including those of the Data Protection Forum and Society for Computers and Law, of which I am still a member).
I also became (and have remained) a data protection trainer for PDP (pdpcompanies.com). Data protection has traditionally had a bad reputation in terms of excitement, but it is exciting! I do my best to share this excitement with the delegates, and enjoy the opportunity to chat with a wide range of people from business and public sector who attend the training.
By 2013, I was working with a range of clients, some large and some small, some local and some further afield. I was also enjoying life outside of work. I played rugby in the evening and at weekends, and had joined a local wind band. I probably spent a bit of time with my husband (and on-site IT support), Andy. But moving was on the cards…
2013 to 2016 – New to Surrey
In 2013, Andy and I moved to Dorking in Surrey. We had more space and I had an office for OBEP. I continued working with my clients I had built up in Wimbledon. A big difference was that it was no longer quick and easy to pop into London for a quick meeting or coffee. I needed to organise my days more carefully and plan my trips to see as many people as possible. In retrospect, organising time was still fairly easy…I had not yet had to juggle work and children 😀
I looked for local networking groups and found a group which had evening meetings in Reigate. I was used to cycling everywhere in London, and Reigate didn't look that far away, so it was a no-brainer that I would cycle to this event. This was not a sensible decision. I soon realised that: (a) it was very hilly; (b) there were very fast cars; and (c) it was very dark. My tiny little bicycle lights which were fine in the bright lights of London made for a terrifying experience in the dark hills of Surrey on 60mph roads. And of course, once I got to the event, I had no choice but to do it all again on the way back. I'm not sure I have cycled anywhere since… 😀
I had the privilege of working for a short period with the amazing Yeing-Lang Chong, a specialist employment law solicitor and consultant for OBEP. Thank you Yeing! Yeing-Lang is now a partner at Kilgannon & Partners LLP (www.kilgannonlaw.co.uk), a specialist employment law firm.
I continued to build my business in Surrey, and was working on exciting projects with some brilliant clients from existing relationships, or whom I had met through networking, referrals or word of mouth. I want to thank all those who did (and still do) refer new clients to me.
2016 to 2022 – Growing Family and Business
Between 2016 and 2018, our family grew to four! I know I am not alone with this insoluble challenge: how do I split my time between the work I love and the children I love? I muddle my way through this every day now!
The other big event that was happening at the time was, of course: the introduction of the GDPR. The demand for data protection services went off the scale. The whole data protection world was busy. In fact, for the first time for OBEP, I had more work opportunities than I could take on. And with my little babies too, working longer hours was not an option. I am sad to say that I had to turn down potential clients during this period.
Working with PDP, I have become a respected data protection trainer, and continue to deliver a variety of data protection training courses around the UK, although in the last couple of years we have also moved online. I am also on the examination board for the PDP Practitioner Certificate in Data Protection. I regularly write articles for external publications, including PDP data protection journal (www.pdpjournals.com) and PC Pro (www.pcpro.co.uk). I have also written a chapter on data protection impact assessments in 'Data Protection – A Practical Guide to UK Law' (see my post on the latest version here).
My second few months of maternity leave gave me the opportunity to take a rest from the GDPR (although obviously no physical rest…at all), and look at where my business was. OBEP was doing well and I was enjoying the big data protection projects. However, I also wanted to bring myself back to my other areas of focus, including drafting technology contracts and helping small (as well as big) businesses. So, in the last couple of years, I have continued with my data protection services, and worked to bring back focus to my other specialisms too. I am pleased to say that, even within the challenges of Covid-19, I am back in a place with a mixture of work and clients, and enjoying my relationships with my brilliant clients.
I am proud of what I have achieved so far, and thank you to my clients, referrers, and everyone who has boosted me on…and of course my IT support husband, whose help I need to publish this blog post.
Here's to the next 10 years!
Olivia Whitcroft, principal of OBEP, 23 May 2022
This article provides general information on the subject matter and is not intended to be relied upon as legal advice. If you would like to discuss this topic, please contact Olivia Whitcroft using the contact details set out here: Contact Details